Schöne Edelmetaal B.V.
Our business is not currently affected by the Coronavirus. Currently we are closed for physical visits. We ask for your understanding.
A reliable partner in precious metals since 1739
Schöne Edelmetaal B.V. has been a household name in the world of precious metals since 1739. Having originally started out as inspectors of gold and silver at the Exchange Bank, we have grown into being the main supplier to the European mints. You could well say that we've got to where we are today by capitalising on our rich history. Which is something we're very proud of! But we don't just live in the past, we continue to go for gold, working our hardest each day to be the very best partner you can have. Since 2003 we've been doing that under the wing of Umicore.
The final word
When it comes down to it, the only thing that really matters is your experience working together with us. We therefore invite you to contact us to discuss how we can best be of service to you.
Thanks to Umicore...
We're in a position of strength
Formerly a part of Degussa, Schöne Edelmetaal was taken under the wing of the worldwide Umicore (materials technology) Group in 2003. This heralded the start of a bright new future, with Umicore providing both the financial security of an international market leader and a longlasting commitment to precious metals. Umicore is also dedicated to using leading technology in order to serve both its customers and our shared environment as well as possible.
Umicore Group's activity is focussed in four areas:
Energy materials (world leader in production of base materials for rechargeable batteries, solar cells and fuel cells)
Catalysts (world leader in production and recycling of automotive catalysts)
Recycling (world leader in recycling of precious metals)
Performance materials (world leader in high quality soldering and electroplating products)
Each of these four strategic pillars is organised into market-specific business enterprises. Amsterdam-based Schöne Edelmetaal B.V. is part of the "Jewellery and Industrial metals" enterprise (within the "Recycling" division), supplying the whole of the Benelux.
Materials for a better life
Our ambition is to create sustainable value through developing, producing and recycling materials in accordance with
Umicore's mission statement 'Materials for a better life'. For us, this means sustainable production processes and perpetuation of the precious metal cycle.
Responsible business conduct under the Dutch Gold Sector IRBC Agreement
In the light of the above-mentioned agreement, Schöne Edelmetaal has introduced a working method in which the so-called Business Partner Screening (BPS) is carefully carried out.
The BPS follows the Responsible Gold Guidance drawn up by the London Bullion Market Association.
The Responsible Gold Guideline is based on the OECD guideline. The OECD Due Diligence Guidance for Responsible Supply Chains of Minerals from Conflict-Affected and High-Risk Areas and the Gold Supplement in annex.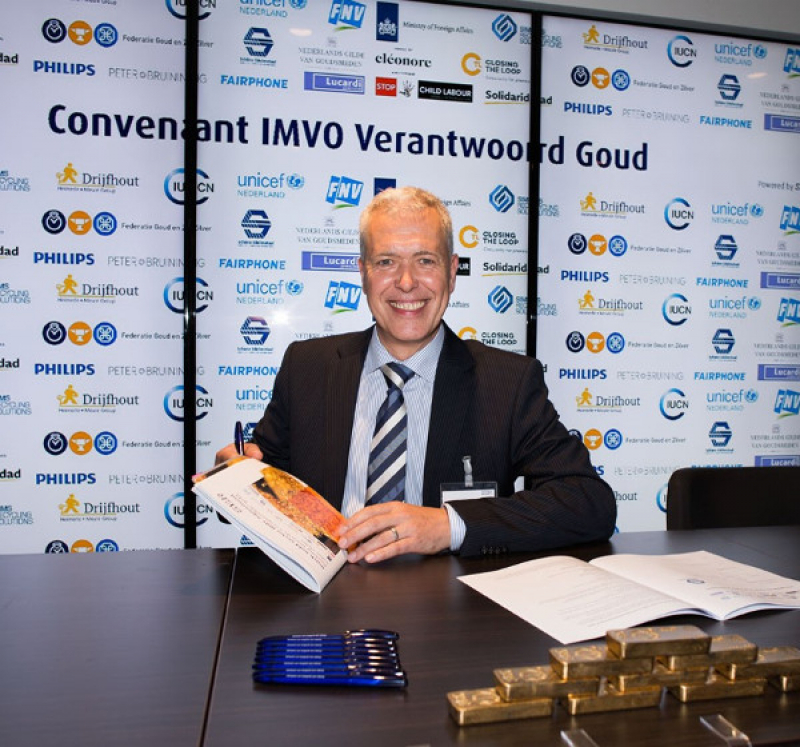 Business Partner Screening
In practice, the Business Partner Screening consists of 3 parts, namely:
Know Your Customer (KYC)
Know Your Material (KYM)
Know your Transaction (KYT)
De BPS has limited validity and is carried out periodically when the opportunity arises as a result of noticeable changes in the company information and/or materials offered.
Know Your Customer
In the KYC portion, the client information is examined. Is all the contact information available, for example? The number of staff members is also important, and when was the company established? What is its creditworthiness and credit history? How is the company registered with the Chamber of Commerce, and who are the beneficiaries and authorized officers? Is the VAT number correct?
Know Your Material
In KYM, we look at the type of material, such as antique jewellery or (fine) gold bars. The country of origin of the gold and the risk that real gold may be mixed with false gold are key factors. Is the origin traceable?
Know Your Transaction
In KYT, checks are carried out to see if the income from one party is indeed paid out to a known owner or authorized officer. Are the requirements under the Unusual Transactions Reporting Act being met?
Only once the above-mentioned checks have revealed no inconsistencies in the information can gold be accepted and refined.
If inconsistencies have come to light, then the party cannot be processed by Schöne Edelmetaal and will be returned to the sender.